Watching Hollywood movies especially those depicting the 50s era, I always imagine what it would be like to hang out in American diners with my friends while we order the usual hang out food of cheeseburgers, fries and a milkshake. Even popular comics during my time, like 'Archie' often depicts the characters meeting up in diners after school and having milkshakes and cheeseburgers and I thought that it was just the coolest!
The only fond memory I have gulping milkshake in my childhood was the ones sold in McDonalds eons ago when they still have chocolate and strawberry milkshakes in their menu. Do you know that apparently you can still request for milkshakes in some McDonalds outlets in the Klang Valley? Well, how about that.
But do you know what milkshakes are actually made of? What is the history behind this sweet, cold and creamy beverage enjoyed by people around the globe, young and old alike? Apparently in 1800s, the version of milkshakes available wasn't the child friendly version because one of the main ingredients was alcohol, namely whiskey. Back in those days, milkshakes was a type of eggnog made with whiskey which was added flavour.
However, by the 1900s, milkshakes became a drink enjoyed by all (well, unless you have diabetes and need to control your sugar level) and appeals to the young and old, simply by omitting alcohol and replacing it with syrup, milk and ice. Later on, they experiment the drink with ice cream to make it tastier and creamier. An ice cream based milk shake is also known as a thick shake where else a milkshake that contains malted milk powder is sometimes called a malt.
However, before the availability of electric blenders, milkshakes were usually hand-shaken mixture of crushed ice, sugar, milk and flavourings (Wow! what a workout!). It is only after 1910, that Hamilton Beach introduced its Cyclone Drink Mixer and it was widely used in soda fountains as it was easier to make and prepare milkshakes.
In 1922, thanks to Steven Poplawski who invented the electric blender, milkshake started to take on the modern day form that we are so used to. It is also the same year, Walgreens employee Ivar 'Pop' Coulson invented the first malted milkshake by adding vanilla ice cream to their usual malted milk drink.
Over the years, people reinvent the milkshakes by adding other things like whipped cream, fudge sauce, butterscotch and candy toppings like m&m, gummy bears or mini pretzels. Some bars also sells milkshake drinks by adding liquor in it, like how it was initially made in 1800s.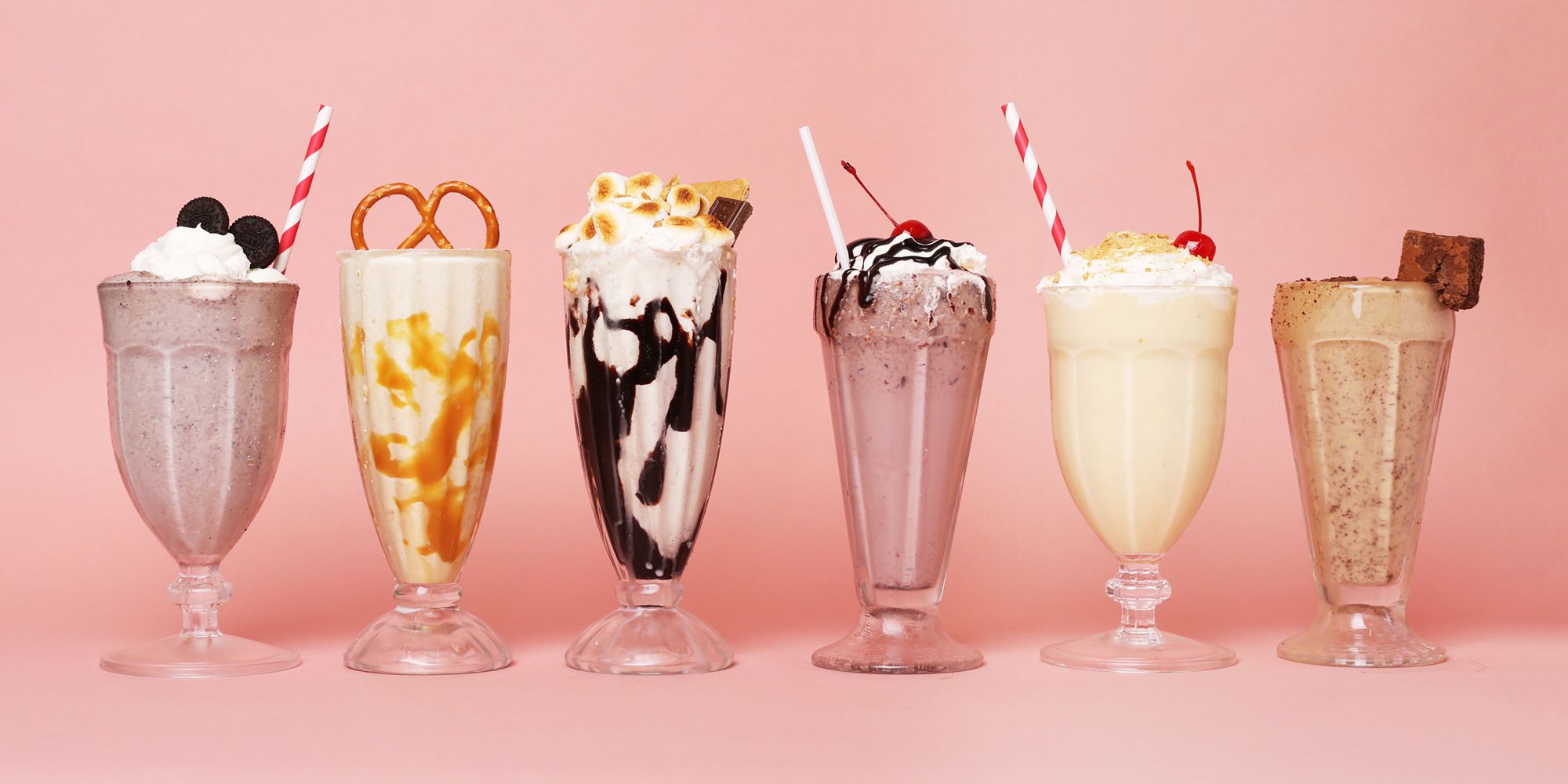 Do you know that in United States, one type of milkshake earned the name "Concrete" because the drink was so thick, you could held it completely upside down and it wouldn't spill at all! Amazing!
Nevertheless, here's how you can make your own yummy milkshake at home (especially during this CMCO) with merely 3 simple ingredients! All you need is full cream milk, ice cream and syrup for extra flavour! It's best to note the best ice cream to use is full cream, full-fat ice cream to get that creamy flavour. Plus it holds better in the blender due to its' thicker and richer nature as it has more air whipped into it.
To make thick milkshakes, use the tips below:
Use real ice cream (choose full-fat! None of those low fat or keto ones if you prefer really thick and creamy milkshake)
Add just enough milk to blend until smooth
Can substitute milk with heavy whipping cream to make the shake thicker
Ingredients for thick and creamy milkshake: (Roughly 10 minutes to prepare and make)
2/3 cups of milk
2 cups ice cream (chocolate ice cream for chocolate shake, strawberry ice cream for strawberry shake, vanilla ice cream for vanilla shake. Basically you can use any type of ice cream for the flavours you desire)
3 tablespoons of chocolate syrup (for chocolate), use strawberry syrup for strawberry shake.
Whipped cream and other toppings are optional
Instructions:
Combine milk, chocolate syrup and chocolate ice cream in a blender and blend them together until smooth.
Pour into a tall glass (those milkshake glasses would be great!), add whipped cream on top and sprinkle toppings of choice.
Serve immediately as the ice cream will melt pretty fast especially in our hot and humid weather. The best way to enjoy your milkshake is to drink it as soon as possible whilst it's still cold and creamy.
I'm saving the best for last because the best part of making a milkshake is the toppings! To make it fun at home, everyone can have their own version of a chocolate milkshake by letting your kids choose their own toppings. Go crazy!
Choices for Toppings:
Cookies: crushed cookie crumbs (oreos, chocolate chip cookies)
Sauces: caramel, hot fudge, strawberry, butterscotch, peanut butter, fruit flavoured sauces
Nuts: toasted peanuts, slivered almonds, crushed pecans
Fruits: strawberries, cherries, bananas, blueberries
Candies: gummies, rainbow sprinkles, chocolate sprinkles, skittles, M&Ms, marshmellows, mini pretzels
Recipe from https://www.spendwithpennies.com/how-to-make-a-milkshake/